Full Service
Interior Design

From Concept To Completion
YOUR DESIGN CONSULTATION
This is the foundation of the entire process. We discuss your vision, your budget, look through material resources to get a better idea of what you like, and review the steps ahead that will make it all come together. We'll learn more about how you'll be using your living space now and looking ahead, assuring the new design supports your lifestyle for years to come.
CREATING THE DESIGN SCHEME
Our design team will keep in touch regularly regarding your project. Creating your colors and materials palette is the most in depth part of the process and can take several days or weeks depending on your project. As this phase concludes, we will present a design concept that reflects the beautiful and functional living space you imagined.
PROJECT MANAGEMENT
With the design concept approved, we will present a proposal summarizing all known associated costs. Now it's time to get to work. We manage every detail from this point on to ensure satisfactory implementation and completion on schedule. We keep you up to date on progress and consult with you as needed to review details requiring your input.
REALIZING YOUR VISION
Here is where you are able to walk in and appreciate the decision you made to entrust your interior design project to Lap of Luxury Fine Home Interiors. The work has been done meticulously and creatively by trades experts and your design team  to exceed your expectations. We can't wait to reveal your new living space!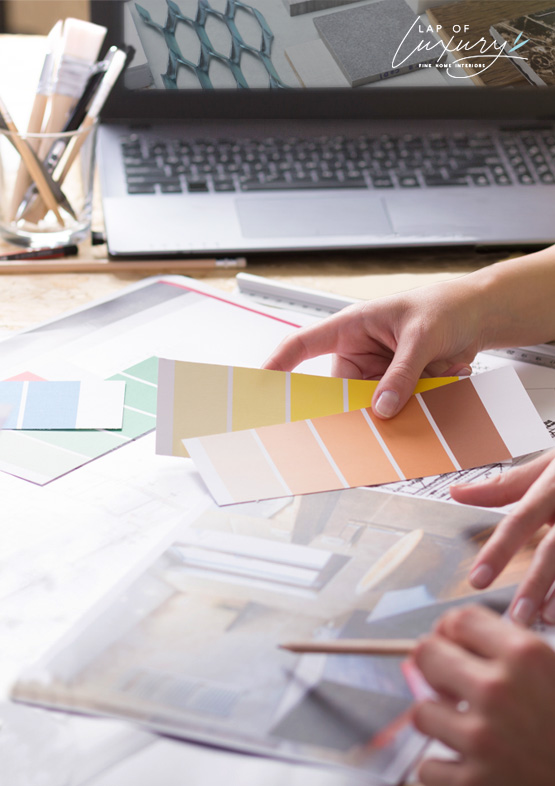 Conceptual design
Space planning and floor plan review
Budget development
Interior architecture consultation
Kitchen and bath design
Lighting and reflective ceiling planning

Color consultation

Custom furniture plan and specification
Accessories and art recommendations
Furniture, fabric, color, accessory and art selection
Finishes, flooring and wall treatment specifications
Custom bedding, upholstery and window treatments
Exterior design and specification
Purchasing
Space planning
Floor plan review
Analyze usage with existing or proposed furnishings
Kitchen and bath redesign
Discuss ADA adaptations
Furniture, fabric, paint, accessory and art selection
Finishes, flooring and wall treatment specifications
Purchasing
Prioritizing for best buyer impression
Furniture placement
Adding or removing furniture
Accessorizing
Color consultation
De-cluttering
Recommending minor fix-up